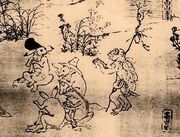 Choujuu-giga was a late Heian-period 12th century manga-"comic" created by Buddhist monk Toba. Rather than a book, Choujuu-giga was a scroll.
It depicted animals ("birds and beasts") lightheartedly behaving like humans; in the manga, the animals are playing and frolicking together. It was the first example of what some would call a "manga" today, though it did, of course, not contain many of the characteristics found in today's manga.
Ad blocker interference detected!
Wikia is a free-to-use site that makes money from advertising. We have a modified experience for viewers using ad blockers

Wikia is not accessible if you've made further modifications. Remove the custom ad blocker rule(s) and the page will load as expected.